Creating a Winning Business Plan: Essential Steps for Real Estate Brokers
Hey there, fellow real estate brokers!
If you're looking to take your business to the next level, then creating a winning business plan is an absolute must. But where do you even start? Don't worry, I've got you covered. Here are some essential steps for creating a successful business plan:
Figure out who you want to serve: The first step in creating a business plan is figuring out exactly who you want to serve. Are you looking to work with first-time home buyers? Luxury home buyers? Investors? Once you know your target market, you can tailor your marketing and sales strategies accordingly.
Develop a killer marketing plan: A solid marketing plan is crucial for attracting potential clients to your brokerage. This can involve creating a professional website, leveraging social media, and implementing targeted marketing campaigns.
Set some financial goals: Knowing exactly what you want to achieve financially can help keep you motivated and on track. Set some specific goals for closed deals, revenue, and profit to give yourself something to strive for.
Create a budget: Nobody likes to overspend, so it's important to create a budget to keep your expenses in check. Make sure to include all of your fixed and variable costs, such as marketing expenses, agent commissions, and office rent.
Establish some key performance indicators (KPIs): Setting some key performance indicators (KPIs) can help you track your progress and measure the success of your business. This can include metrics such as closed deals, customer satisfaction, and market share.
By following these steps, you'll be well on your way to creating a winning business plan that will help you grow and succeed in the real estate industry. Good luck!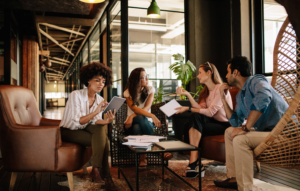 So you are new to real estate and want to know what's next- Keep reading to learn more